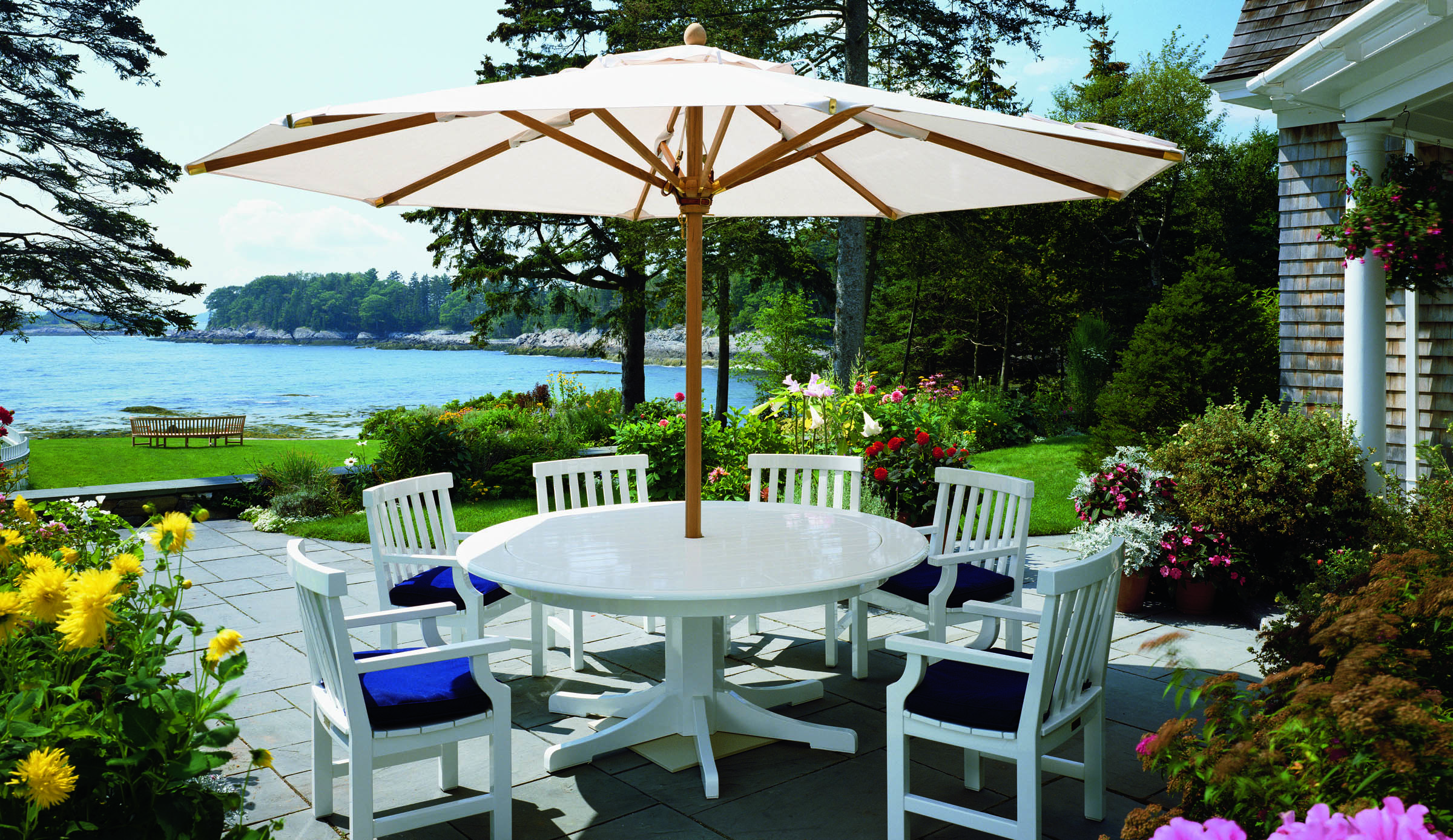 CARING FOR YOUR UMBRELLA GENERAL MAINTENANCE
 Always close and tie the umbrella in the stand when not in use. This will protect it against damage from unexpected inclement weather or high gusts of wind.
For maximum protection of the wood and fabric, put the storage cover in place each night.
If the umbrella becomes wet because of rain or snow, open it for a complete airing and make certain that it is totally dry before closing again.
The brass hardware will age to a beautiful antique finish and will need no further care.
LONG TERM STORAGE 
Cover the umbrella with a storage cover or clean tarp and lay on a hard, flat surface in a well ventilated, protected location.
THE FABRIC
Sunbrella is made from 100% acrylic fiber. It resists loss of color and strength from normal exposure to sunlight, mildew, rot and atmospheric chemicals. Sunbrella has a fluoracarbon finish which provides good water repellency and is resistant to oil, dirt and comparable stains. Solution-dyed acrylic fabric does not promote mildew growth. However, mildew may grow on dirt and other foreign substances that are not removed from fabric on a regular basis. Covers are recommended to extend the life of your umbrella and help keep it clean from regular environmental elements such as dirt from trees. 
Sunbrella® fabric should be cleaned on a regular basis to prevent dirt, oils, roof particles, etc., from accumulating on and embedding in the fabric. Cushion foam and cluster fiber filling should be removed prior to cleaning. Brush off any loose dirt. Clean with a mild solution of 1/4 cup of Dawn® dishwashing liquid per gallon of lukewarm water. Use a sponge or a soft bristle brush and rinse thoroughly to remove all soap residue. Allow fabric to air dry.
Spot clean with a light mist of mild soap and water using a spray bottle. Work the solution into the stain by lightly scrubbing. Rinse thoroughly, blot excess moisture with clean soft towel and air dry.
To clean more stubborn stains, soak fabric for 15 minutes in a solution of one cup non-chlorine bleach and 1/4 cup of mild soap per gallon of water. Rinse thoroughly in cold water to remove all soap and air dry. Please note: This method of cleaning may affect the water repellency and fabric should receive an application of an air-curing, water repellent treatment such 303 Fabric Guard. For more information visit www.303products.com.
THE POLE
The umbrella pole is made of natural teak. Clean with a mild solution of soap and water on a soft cotton cloth to remove surface dirt. Plain water will not harm the wood. Do not use abrasive cleaners or scouring pads. Note: The wind vent on the umbrella will help prevent toppling or lifting, but cannot eliminate it altogether.
Care should be taken with heavy winds, as it is possible for the umbrella to be blown over in such conditions and be damaged or damage surrounding items. Weatherend Estate Furniture is not responsible for any damages occurring in this manner. Please contact us at 800.456.6483 or [email protected] for more information.